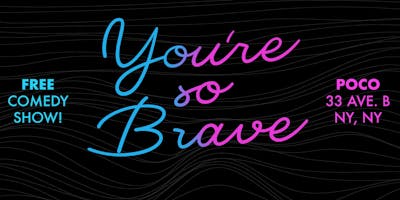 You're So Brave Comedy Show
Join hosts Sarah Cooper and Nikki MacCallum along with some of the best talent in New York City!
Our November 21st lineup features Sean Donnelly (The Late Show, Conan), Maddy Smith (MTV's Wild N Out), Brian Bahe (Vulture), Jessica Clayton (New York Comedy Club), Andrew Casertano (The Stand), Michelle Slonim (Comedy Central), with your hosts Nikki MacCallum and Sarah Cooper!
Tickets are free, drinks are good and the mac and cheese is hot, see you there!
https://www.eventbrite.com/e/youre-so-brave-comedy-show-registration-54387125356
Feb. 1, 2019, 12:45 a.m. to Dec. 18, 2019, 2:30 a.m.
Location: 33 Avenue B, New York, NY 10009