This event is unpublished and awaiting approval.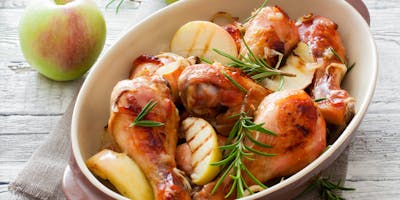 Mustard Chicken with Apples & Shallots; Kale-Apple Salad with Pecans & Cherries
Looking for your new Fall chicken go-to recipe? This outrageously delicious one-pot dinner is based on classic French preparation for rich and tender chicken thighs that are bathed in an herby, zinging broth of chicken stock, thyme, wine and Dijon. The sharpness of the mustard is rounded out by earthy shallots and just-sweet apples. While the chicken is braising, you will prepare a uber-seasonal asalad that hits all the spots- hearty kale, bright apples, nutty pecans, salty aged cheese, and sweet-tart dried cherries. 
Seats Open Only To Viacom Employees
https://www.eventbrite.com/e/mustard-chicken-with-apples-shallots-kale-apple-salad-with-pecans-cherries-tickets-76391259313
Nov. 22, 2019, 5 p.m. to Nov. 22, 2019, 6 p.m.
Location: 1515 Broadway 7th Floor, New York, NY 11036