This event is unpublished and awaiting approval.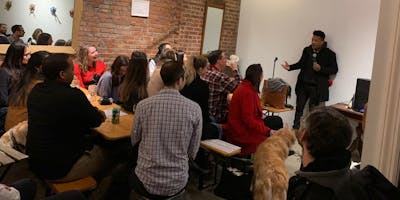 The Good Dog Show: A Dog-Friendly Comedy Show (#16)
Have you always wanted to bring your dog with you to a comedy show? Now your opportunity is finally here, thanks to The Good Dog Show! Take your little buddy to DSK's Haus on Hanson (a Barkeasy). Haus on Hanson is the best place in the world, where you will enjoy great food, German beers, and comedy from some of New York City's funniest comedians. We even invite dogs onstage to do tricks. You're going to love it, and your dogs are going to love it. Unlike at the dog run, people without dogs are also welcome.
Our show tends to sell out; buy tickets in advance or risk your dog's wrath.
Here's the lineup*:Samantha Ruddy (The Late Show with Stephen Colbert, Full Frontal with Samantha Bee)Matt Koff (The Daily Show, Onion News Network)Emily Flake (The New Yorker, MAD Magazine)Julia Shiplett (Crashing, Clusterfest)Matt Jenkins (Carolines, Laughing Skull Comedy Festival)
Your human host: Jonathan Zeller (The New Yorker, McSweeney's)And more TBA!
*Lineup subject to change for show-business reasons.
https://www.eventbrite.com/e/the-good-dog-show-a-dog-friendly-comedy-show-16-tickets-77429095509
Nov. 22, 2019, 1 a.m. to Nov. 22, 2019, 3 a.m.
Location: 99 Hanson Place, Brooklyn, NY, NY 11217