This event is unpublished and awaiting approval.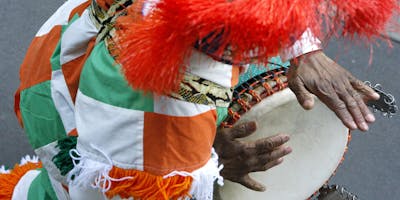 West African Drumming
Explore the heart of all West African musical traditions: the drum. Learn to play the many parts of djembe, doundoun, songbas and kenkenes with Vado Diomande, life-long drummer, drum-maker and repairer. Learn to play accompaniment lines to Kookoo, Temate, Katana, Bolohi, N'Goron and more as you build up to playing lead drum. Growing up in the rich musical culture of West Africa, Vado learned both dance and drum at an early age. Vado's wealth of knowledge demonstrates the fascinating patterns and rich tapestries of Ivory Coast drumming. Master dancer, teacher, choreographer and drummer Vado Diomande was initiated as a youth to be the keeper of the sacred mask stilt-dance for his village in the Ivory Coast. *Drum Rental $2 at the door Vado has danced since the age of four, learning the dance and drum traditions of his Mahouka people. At an early age, he was initiated into becoming the keeper of the sacred mask dance on stilts, Gue-Pelou. This distinction brought him to the Ballet National de Cote d'Ivoire, where he became a principal dancer for more than 15 years. Vado learned over 60 ethnic dance and drumming traditions from the Ivory Coast and other West African countries. His repertoire elevated his career to eventually choreographing and touring extensively throughout Africa, Asia, Europe and Australia. In 1989 he established L'Ensemble Kokiegna d'Abidjan, which has resided in New York City as the Kotchegna Dance Company since 1994. In Vado's native language Mahou, 'kotchegna' means messenger. His troupe's goal is to inspire joy and understanding through the power of dance and drum, promoting the exchange of culture worldwide. He continues to strengthen his experience as a choreographer, artistic director, teacher and performer. He also takes part in many educational programs for children in New York City schools and beyond. For more information, go to www.kotchegna.com. https://www.eventbrite.com/e/west-african-drumming-tickets-54434806973
Jan. 10, 2019, 11:30 p.m. to Feb. 28, 2020, 12:45 a.m.
1368 Fulton Street 3rd Floor, Brooklyn, NY 11216
Hosted by

sunmola