This event is unpublished and awaiting approval.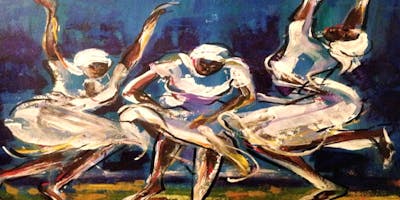 "Caribbean Arts Festival: Migration of Colors" Opening Reception
Queens Public Library will be hosting a Caribbean Arts Festival featuring artists from as far away as Bangladesh and Argentina and as close as Queens. The festival will take place at nine branches: Cambria Heights, Central, Douglaston/Little Neck, Hollis, Laurelton, Rochdale Village, Rosedale, St. Albans, and South Hollis. The festival kicks off with an opening reception on Saturday, November 16 from 6-10pm at Cambria Heights. 
Each branch's art display will have a theme, including history, religion, and different styles of art, from impressionist to abstract to surreal. 
This year's exhibition is being organized by QPL staff in partnership with the Friends of Queens Public Library. 
Photo Credit: Forbidden Gathering by Gina Samson
Tickets Purchase Policy
Queens Public Library programs are free to the public. In order to make the programs available to the most number of people we are limiting general admission free tickets to 2 per individual.  Multiple orders per individual are not allowed and will be cancelled. This policy ensures that no-shows are reduced and tickets are available to the most number of people.
https://www.eventbrite.com/e/caribbean-arts-festival-migration-of-colors-opening-reception-tickets-79191516959
Nov. 16, 2019, 11 p.m. to Nov. 17, 2019, 3 a.m.
Location: 218-13 Linden Boulevard, Cambria Heights, NY 11411