This event is unpublished and awaiting approval.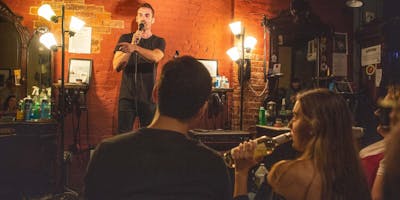 Hottest Comedy Show in NYC! Live at the Barbershop! BYOB! LES!
Live at the barbershop is the hottest weekly stand up comedy show in NYC! The show takes place in a real East Village Barbershop and always featuring killer comics from TV, special guest drop-ins and amazing crowds. The shows sell out every week so be sure to grab your tickets!
at 8:30pm - Always BYOB. 
Brought to you by Ronnie Lordi.
Shows this year have featured:
Judah Friedlander (30 Rock)
Roy Wood Jr. (The Daily Show)
Joe List (Netflix)
Corinne Fisher (Guys We Fu**ed)
Ashley Hesseltine (Girls Gotta Eat Pod)
Sean Patton (Comedy Central)
Dante Nero (The Blacklist)
Kelsey Cook (The Tonight Show)
Nore Davis (Comedy Central)
Mark Normand (Comedy Central)
Remy Kassimir (Netflix, How Cum Podcast)
Dean Delray (The Joe Rogan Experience)
Emma Willmann (Netflix)
Sarah Tollemache (The Late Show with Stephen Colbert)
Nathan Macintosh (Conan)
Jo Firestone (The Tonight Show With Jimmy Fallon)
Aaron Berg (Comedy Central)
Dave Merheje (Ramy on Hulu)
Greer Barnes (Chappelle's Show)
DC Benny (Comedy Central)
Yannis Pappas (Comedy Cellar)
And so many more!
 
https://www.eventbrite.com/e/hottest-comedy-show-in-nyc-live-at-the-barbershop-byob-les-tickets-64577361627
Nov. 16, 2019, 1:30 a.m. to Nov. 16, 2019, 3 a.m.
Location: 174 East 2nd Street, New York , NY 10009