This event is unpublished and awaiting approval.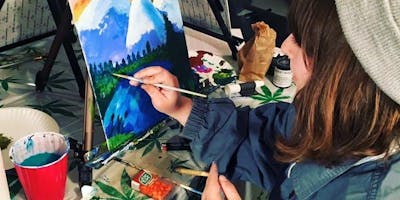 Puff, Pass and Paint- 420-friendly painting in New York City! 21+
Come join us for the original Puff, Pass and Paint class, with sessions held across the country!
Follow along with step-by-step instructions to create your own mind-altered masterpiece or get inspired and completely follow your own whims - up to you! The 2-hour class includes an instructor and all the art supplies you'll need (paints, brushes, and 11" x 14" canvas panel) and you take your art home with you! Class is always BYOC(Bring your own cannabis) and BYOB as well. ALL ATTENDEES MUST BE 21 OR OLDER. All attendees must also have vaild identification and proof of ticket purchase upon arrival. Don't forget to wear clothes that you are not afraid to get a little paint on!
Tickets are non-refundable/ non-transferable 
https://www.eventbrite.com/e/puff-pass-and-paint-420-friendly-painting-in-new-york-city-21-tickets-67835089579
Aug. 4, 2019, midnight to Feb. 29, 2020, 11:20 p.m.
Location: 525 Nostrand Ave (Buzz #2), Brooklyn, NY 11222