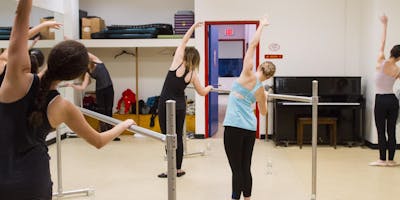 Beginner Ballet at SHAKTIBARRE HARLEM
We are partnering with SHAKTIBARRE to bring BEGINNER BALLET to their Harlem studio. This class is an introductory level to ballet, which tones, lengthens, and awakens your body and mind in our challenging yet well-explained classical ballerina workout, guided and instructed by a professional dancer. Like The Ballet Spot, SHAKTIBARRE believes there's plenty of room at the barre for everyone, and together we will empower you toward being your best zero-judgment dancer self.
Visit www.theballetspot.com for more information.
https://www.eventbrite.com/e/beginner-ballet-at-shaktibarre-harlem-tickets-70325179505
Sept. 4, 2019, 4:15 p.m. to Oct. 30, 2019, 5:10 p.m.
Location: 2272 Adam Clayton Powell Jr Blvd, New York, NY 10030