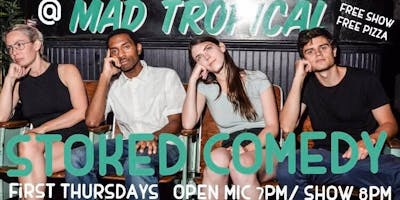 Stoked Comedy 10/17
Stoked is a FREE comedy show the first Thursday of every month hosted by Amber Rollo, Kelly Bachman, Davidson Boswell and Julie Piñero at Mad Tropical in Brooklyn, NY. First and third Thursday of every month we have some of the best comedians in NY do their thing for you for the low low price of $0 and some laughs. Our next show is 10/17, its about to get spooky!OPEN MIC at 7pmSHOW at 8pmFeaturing:Rufat AgayevHarris AltermanWanda NoonanJulio DiazWith Melton the DJ!FREE Pizza, Sweet Drink Specials and many many laughs.PSST...Wanna try your material on stage? Come by before the show for the Open Mic at 7pm or every Tuesday at 6pm. One comic from the open mic will get a guest spot on the next Stoked Comedy!
https://www.eventbrite.com/e/stoked-comedy-1017-tickets-75398341469
Oct. 17, 2019, 11 p.m. to Oct. 18, 2019, 2 a.m.
Location: 236 Troutman St, Brooklyn, NY 11237