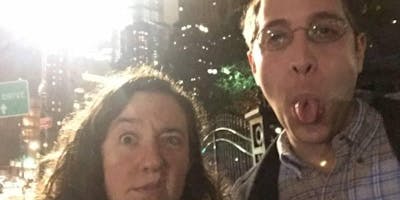 Manhattan Let's Roam Treasure Hunt:The Many Lives of Manhattan!
See the best of Manhattan and delight your friends with some epic scavenger hunt ideas for adults. On, The Many Lives of Manhattan, you will wander with purpose to see the most entertaining sights in Manhattan, and learn about the history and culture while you're at it. Snap silly photos, answer tough trivia, and have a blast with the Let's Roam scavenger hunt app!Want to be the star of HR? We can help with that. These hunts are always a hit for Manhattan team-building activities! Teams work together but against each other to see who will come out as the Manhattan scavenger hunt champion. We know there are a lot of things to do in Manhattan, but if you want an event you won't forget, book a Let's Roam scavenger hunt today! It's hard to choose highlights on a hunt this epic but here's a few: City Hall, Chinatown, Bowery.Don't forget about Let's Roam when you're gathering together to celebrate the bride or groom to be. For bachelorette parties ideas in Manhattan, look no further! Customized roles and comical challenges are just a small part of what makes this a fantastic time for the whole bridal party! Stop stressing about planning the perfect Manhattan bachelorette party and start planning your outfit, you're sure to get some Insta-worthy pics on this hunt!Too far for you to roam? We've got more in the area! Take a look at: Midtown Park Hopper, When Elephants Roamed Brooklyn, and Hoboken Harbor & History.More hunt info here: Additional Info About The Let's Roam Manhattan Scavenger Hunt.Redeem your purchased Let's Roam Manhattan Scavenger Hunt Tickets Here .
https://www.eventbrite.com/e/manhattan-lets-roam-treasure-huntthe-many-lives-of-manhattan-tickets-64022651474
Aug. 3, 2019, 2 p.m. to Sept. 21, 2020, 2 a.m.
Location: 11 Centre Street, New York, NY 10007