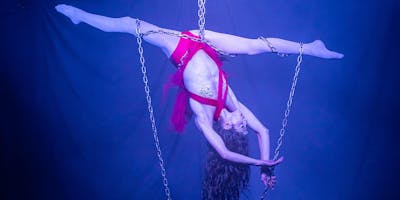 Secret Circus: An Aerial Spectacular
Witness New York City's most talented aerialists in a secret, intimate venue. Secret Circus gives experienced circus performers a stage to display their most immersive, captivating, and daringly dynamic pieces.Each show has a secret theme that audience members discover as the night progresses. The show's theme is built around the performers, resulting in an awe-inspiring, totally unique experience.Host: Laurel Fixation (Matt Phillips) @laurelfixxationFeaturing:Ariel Iasevoli ariel.ist @ariel.istSam Marsh @sammykomarshPeter Mercury @peterxmercuryElena Delgado @delgadomakes Pixel Witch @pixelwitchadventuresAt intermission, enter our theme-based costume contest, and tell your secrets to our human confessional, Lilly Wolfson
Produced by Ariel IasevoliCover photo of Ariel Iasevoli by Alexander Rivero
All tickets are seated.First and second row VIP and balcony seats are reserved.General admission seating is first-come first-choice.Doors at 8. Show at 8:30.The show will sell out. There will not be door tickets.
https://www.eventbrite.com/e/secret-circus-an-aerial-spectacular-tickets-69418401307
Oct. 20, 2019, midnight to Oct. 20, 2019, 2:30 a.m.
Location: 137 W 14th St. 2nd Floor, Buzzer Secret Loft, New York, New York 10011