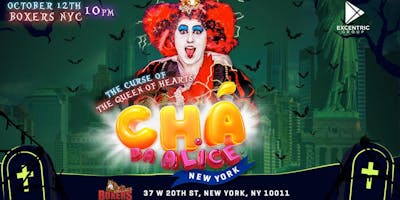 Chá da Alice ( Alice's tea) 10/12 NYC - Halloween party
Even Wonderland will be terrifying this Halloween and you won't want to miss this amazing event!
The most FAMOUS POP party from Brazil brings all the joy to NYC! Beautiful people, good music, and a good scare. We welcome you to have the complete Halloween experience at our home, Boxers in Chelsea. Mark your calendars "Saturday, October 12, at 10pm!"
Book your VIP table with a special discount.
Buy your ticket now. 
* VIPS Tickets valid only until midnight.
https://www.eventbrite.com/e/cha-da-alice-alices-tea-1012-nyc-halloween-party-tickets-74178745625
Oct. 13, 2019, 2 a.m. to Oct. 13, 2019, 8 a.m.
Location: 37 West 20th Street, New York, NY 10011