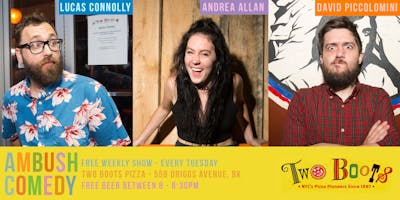 Ambush Comedy
Ambush Comedy is a staple of the NY comedy scene. Every Tuesday at Two Boots in Williamsburg, hosts Lucas Connolly, Andrea Allan, and David Piccolomini present stacked lineups of top comics from NYC and beyond. Show up between 8:00-8:30 to get a free beer, grab a slice, and enjoy a fantastic show in an intimate setting. 
This week's lineup features:
Rachel Lenihan (The Chris Gethard Show)
Brian Parise (Last Week Tonight)
Evan Williams (Comedy Central)
Carmen Lagala (Colbert)
Andy Haynes (Comedy Central)
https://www.eventbrite.com/e/ambush-comedy-tickets-52301705810
Nov. 14, 2018, 1 a.m. to Nov. 13, 2019, 3:30 a.m.
Location: 558 Driggs Avenue, Brooklyn, NY 11211