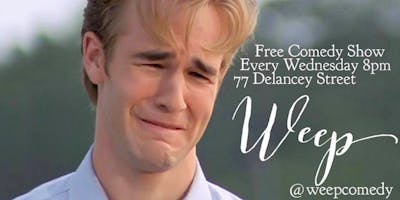 WEEP free comedy show!
Calling all comedy lovers!  Best FREE weekly comedy show on the LES! A blend of TV stars and fresh new talent working it out on stage every week. New line-up every week! Hosted by NY comedy legends Chloe LaBranche & Sara Armour 
Every Wednesday
8:30 pm 
doors at 8 pm 
half price bottles of wine all night 
& an oyster happy hour with drink specials from 4-7 
Come to Weep! 
https://www.eventbrite.com/e/weep-free-comedy-show-tickets-54634026845
Jan. 17, 2019, 12:30 a.m. to Dec. 19, 2019, 3 a.m.
Location: 77 Delancey Street, New York, NY 10002