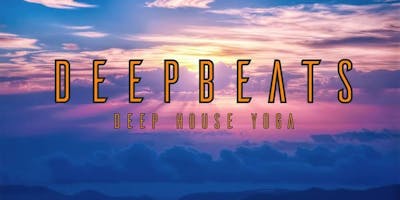 DeepBeats: Deep House Yoga
DeepBeats DJ George Faya and a guest instructor lead you through an hour of DeepBeats' Vinyasa Flow accompanied by your personal soundtrack of atmospheric deep house grooves. Free refreshments courtesy of our healthy snack partners. 
::: Check out the DeepBeats calendar at deepbeatsyoga.com/calendar for this week's instructor :::
Bring your own mat | Limited mats will be available to use for class $2!
Yoga, loosely translated from its Sanskrit root – means "union" or "integration" – the bringing together of a sound mind & spirit within a sound body. Riding at the forefront of the new health-conscious clubbing movement, DeepBeats: Deep House Yoga is a union of not just the spiritual and physical, but a fusion of the ancient discipline of yoga with the sounds of today's underground dance music. It brings together the mental and physical benefits of yoga with the spiritual connection we feel to the music we love.
18+
Doors open 15 minutes before class time, and close 5 minutes after class start time. Please arrive early! For your own safety and to respect the other yogis, late comers will not be permitted entry. Refunds are not granted for late comers.
::::::: Community & Accessibility :::::::
This is a space for everyone to feel welcome and loved. Racism, sexism, ableism, ageism, homophobia, transphobia, xenophobia will not be tolerated at our House. All entrances and spaces within the venue are single-level and handicap accessible. There are stairs leading to the upper portions of the stage, for those who wish to dance in the spotlight. Gender neutral bathrooms are located in the main room.
https://www.eventbrite.com/e/deepbeats-deep-house-yoga-tickets-31131453014
Feb. 11, 2017, 5 p.m. to Oct. 22, 2019, midnight
Location: 2 Wyckoff Avenue, Brooklyn, NY 11237